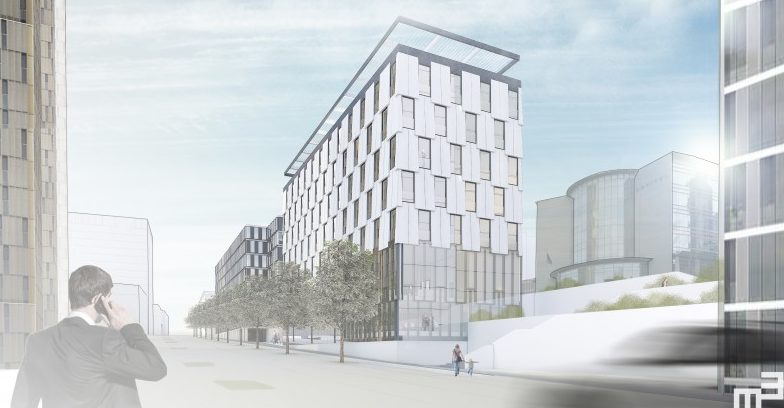 GARCIA FAURA expands its international reach
Garcia Faura will stamp the city of Luxembourg, specifically the Kirchberg area, with our professional seal when it we are to contribute to the construction of a hotel and office block between April and December over the coming year. This suburb is the location of several of the European Union institutions (such as the Courts of Justice and Auditors and the Secretary of State of Parliament.
Kirchberg is also a significant banking hub (the European Investment Bank is headquartered here) and cultural centre (with the Luxembourg Philharmonic and the Museum of Modern Art being based there), not to mention being a residential and leisure district of repute. Furthermore, is has excellent links to Luxembourg airport.
GARCIA FAURA will be producing and installing 1025 square metres of high-grade aluminium framework in the Hotel, with highly energy-efficient glazing. A curtain wall is also to be installed, with views to the outside and triple glazing on the ground floor, where shops are to be located. Finally, 17 aluminium doors and other elements, such as ventilation slats, are to be installed there.
With regard to the office block, GARCIA FAURA will also be installing a double-skin modular curtain wall facade, designed especially for this project. There will be an interior skin combining opaque areas with transparent openings comprising highly energy efficient glazing.
The outer skin will also comprise opaque areas with transparencies in aluminium frames, forming a 4870 square metre modular facade. The building will also include 600 square metres of curtain walling with exterior views and triple glazing for the ground floor, in addition to five aluminium doors.
t should be noted that this building will also house police units, so part of the facade is made of bulletproof glass and an anti-refractive system. The range of works included in this project is of high technical complexity, a fact that has been pivotal in the decision to award it to GARCIA FAURA.