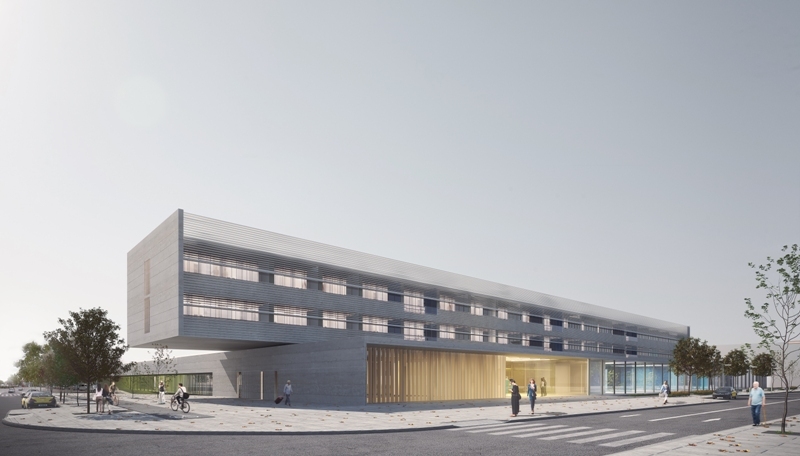 GARCIA FAURA's contribution to the expected expansion of the Viladecans Hospital
GARCIA FAURA participates in the expansion of the General Hospital of Viladecans, in Barcelona, a national reference center in surgery without admission. The work will triple the current area of ​​the health center and achieve improvements in the comfort of patients and professional staff.
The new building of the Hospital de Viladecans, whose architectural project is the work of Ramón Esteve Estudio and Sulkin Marchissio Arquitectos, will have access to Mil·lenari avenue and will be used mainly for healthcare purposes (such as External Consultations and Emergencies) while the current and historic building will be used for administrative and non-care uses.
In addition, the space between the buildings will be landscaped to create environmental conditions that promote the well-being of people using the hospital and also the general public of Viladecans, as the old access square is renovated and it is reconverted into an area without wheeled traffic and of a playful nature.
GARCIA FAURA's intervention in the project, in the line of creating a space of comfort and well-being for patients and health professionals, consists of the manufacture and installation of 1,802 square meters of aluminum enclosures with thermal break and hidden leaf, the latter made to maximize the entry of natural light and create a more modern exterior aesthetic.
The company will also manufacture and install 2,308 square meters of aluminum and glass curtain wall with integrated doors, as well as 1,735 square meters of aluminum linings and siding, always thinking about the quality not only of the work done but also in the satisfaction of users and professional staff.