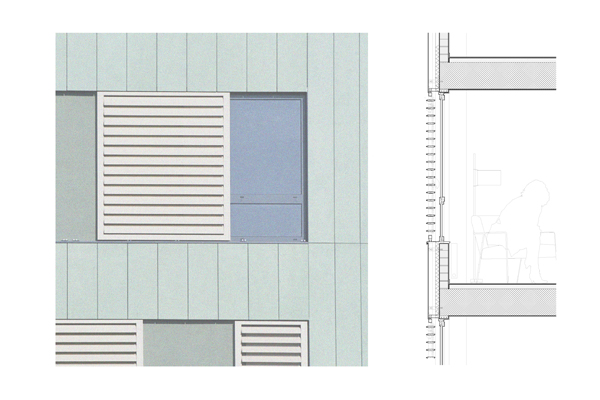 GARCIA FAURA windows for a building finalist at the FAD Awards
GARCIA FAURA has participated in the construction of 79 officially protected homes in Sant Boi de Llobregat (Barcelona). It is a building that is a finalist in the FAD Architecture 2020 Awards thanks to the incorporation of courtyards and community spaces as a solution to the impossibility of making balconies.
For this project, GARCIA FAURA has manufactured and installed 1,100 square meters of aluminum and glass enclosures. A project in which the windows take on an important character, as it is precisely the building that is designed in such a way that all the living rooms and all the bedrooms in all the apartments are exterior. Thus, the entry of natural light becomes a sign of identity of its inner comfort.
The enclosures have been developed with aluminum profiles with thermal break and good technical performance glass. In this way, it contributes to a good level of well-being, fully compatible with the construction costs of the project, of a public nature and intended for sheltered housing.
The fact is that, despite the tight budget, the project has created homes with lots of light, with interior spaces for the whole neighborhood open to the outside, spaces that become places of transition between home and street. All the living rooms and bedrooms of the houses are exterior, while the accesses, the kitchens and the bathrooms face four corridors that serve only four houses each.
In fact, this may be one of the architectural trends in times of health uncertainty such as the current covid-19. If, as experts predict, it is possible that there will be outbreaks of the disease and, therefore, possible new confinements, the buildings will have to be prepared to offer air and light spaces, precisely like this one in which participated GARCIA FAURA.